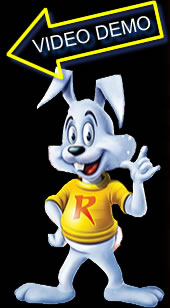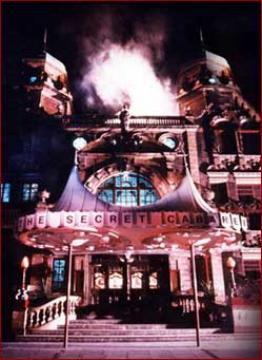 This is the DVD of the series which amazed so many people featuring the incredble Simon Drake. Both series one and two included with spectactular footage from the TV Shows. The 12 half-hour programs consisted of a mix of the bizarre and surreal along with traditional magic illusions, often performed with gruesome twists. Originally conceived by Simon Drake, this unique TV series featured some of the most visually stunning and shocking illusions ever to be seen in the history of television.
More details:

Description
DVD text: For some years now Channel 4 and I have received many letters requesting copies of The Secret Cabaret and while I would have loved to have made the programmes available in their uncut state, I am afraid that, due to copyright clearances this has not been possible. Besides, most of the swindlers, ghost hunters, vampires and variety acts have since been widely seen on many subsequent television programmes. It's nice to know we were first. For a limited time I was able to release all my own work on both series along with some additional linking material which I hope gives a feel of the original shows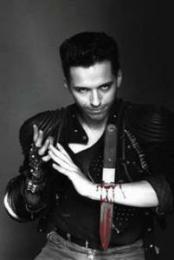 SERIES ONE
The Cremation
Balls from Mouth Routine
The Impaler
Needle through Arm
Laser Bending Routine
The Shadow Box
The Assistants revenge
Smoking Routine
Swords through Body
The Dancing Cane
Drinks production & balloon mime
Houdini's Milk Churn Escape
The Cigarette Rolling Routine
Needles from Mouth
Spikes in Coffin
Sawing girl in half & not restoring her
Bullet catch routine
Man in a Bottle



SERIES TWO
Hanging Routine
Silhouette Routine
Russian Roulette
Knife Through Arm
The Snake lady
Eggs Production Routine
The Hospital Scene
Flowers Production
The Pickpockets Hand
The Floating Table
The Guillotine
Death comes to Las Vegas
The Living Half-Man
The Drinking Act
Chainsaws through Head
Killer Rope
Mary Queen of Scots' decapitated head
The Fire Routine
The Iron Maiden
The Devil of a Hat
The Voyeur Illusion
Dorian Grey parts 1 and 2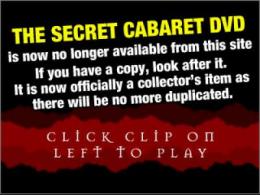 Secret Cabaret DVD - Now Highly Collectable
The Secret Cabaret website announced there was only a small run of the DVD and now do not sell any more so the Dvd's that exist are highly collectable. See the actual post on the Secret Cabaret website (right) There will be no more.

Simon's TV series broke new ground because it was the first to present dark entertainment, a forerunner to the offbeat TV magic of Criss Angel and David Blaine. Simon's hit TV series that has earned him an international cult following and was praised by TV critics and nominated for a Royal Television Society award, unusual for a magic production.

Many believe The Secret Cabaret was Simon's first TV work but this isn't so. At a youthful age he already had over 20 TV appearances under his belt and was very well known in the business for his full magic productions.


During the 80's - when Paul Daniels ruled British television and was immensely popular - Simon pitched his Secret Cabaret concept to two competing TV producers. His idea was to create a bold new magic TV series aimed at younger audiences who were looking for something beyond glitzy entertainment.

In 1989 Open Media Productions were commissioned to make six half-hour programs featuring dark-edged, fast-paced and challenging illusions. With the intensity of shooting many complex manipulation routines and dangerous illusions, the shows were very difficult to produce. There were stunt advisors on hand and during the series he was set on fire and actually hung by the neck, although this scene was cut and never shown on TV.

The Secret Cabaret achieved very good ratings and quickly developed cult status. At the end of his second series Simon toured to packed houses all over Europe.

The shows proved to be way ahead of their time and many prominent magicians including the vastly knowledgeable Patrick Page cite it as the best TV magic ever made.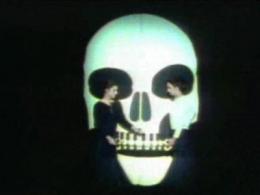 Appearances
With Simon Drake

Starring Ricky Jay

With regular guests: James Randi, Geno Munari, Max Maven, Frank Abagnale and David Berglas
Series 1
Show 1 also featured: Rocky Rendall, Tony Ehlert, Carletti and Belle

Show 2 also featured: Mike Comerford, Mark Raffles, Fluke

Show 3 also featured: Les Hilton, Jeanin Lionet, Tony Andruzzi, Stromboli, John Gaughan

Show 4 also featured: Bartschelly, Jenny Randles, John Gaughan

Show 5 also featured: Sue Brent, Charlie Marsden and Lloyd Williams, Jay Marshall, Alan Alan, Sean Manchester

Show 6 also featured: Watt the Man, Normando Rojas, Tony Andruzzi, Rocky Rendall



Series 2
Show 1 also featured: Matthew Gryczan, Jeanie, Named Seuqcaj, Enrica

Show 2 also featured: Tkach, Charles Black, Snake Lady, La Dorina

Show 3 also featured: Stevie Starr, Len Di Maggio, Staubertis

Show 4 also featured: Max Oscar, Bessie Standing, Matthew Gryczan, Named Seuqcaj

Show 5 also featured: Elvis Mokko, Tony Zavosky, Anne Marie Bates, David Benn

Show 6 also featured: Mandragores, Percilla and Emmitt, Jonny King, Dorian Grey