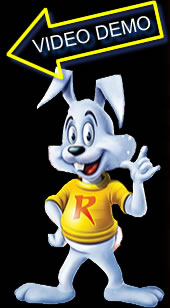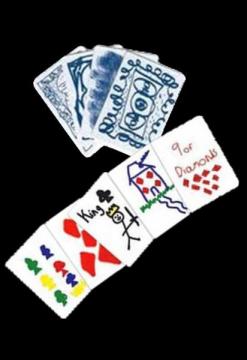 Each Kids Kards deck comes complete and ready to work. As you will see from the images, the artwork on the "kid" cards is charming - both the faces and backs have been custom printed and are perfectly in tune with the patter story of children designing a deck of cards. The trick is nearly self-working, the deck does all the work for you.
More details: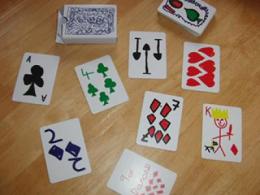 Description
Effect: A group of children that you did a show for have made you a unique and special gift as a thank you. Wonderful though this is, it's not a lot of use for performing with. So using your special powers you set about changing one card, then the whole deck into a more familiar and useful design.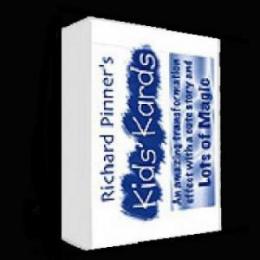 With the brand new deck you demonstrate your skills with a little mind reading. However, racked with guilt at ruining the young ones' beautiful present you set about returning it to its former, if unconventional, glory

Each Kids Kards deck comes complete and ready to work.




---
You might also like to consider:
Pop Art by Mark Southworth. Imagine you have an ordinary sketch pad that has a picture of a pack of cards on one of the pages. You flip the pad and the pack of cards jumps out of the sketch pad and into your hands! No, you are not imagining it, this is Pop Art.
A great new color for your card act! These fuchsia backed cards are officially printed by the U.S. Playing Card Company and can be used in any number of card routines. Bring a bit of color to your card routine!
A great Bicycle deck but this time also for children / families. Imagine having a set of cards that the magician could perform all their normal miracles but instead of standard playing cards, the faces were cartoon drawings. Many different effects can be created with this very special 2 Deck Combo set.
The latest addition to the best-selling Karnival range of playing cards is the Bicycle Karnival Earthtone9! The incredible artwork for this deck was handled by renowned designer Sam Hayles. The Karnival Earthtone9 Deck was created to celebrate the career of UK post-metal act earthtone9, and the deck's incredible artwork was directly inspired by the band's new album design.
The incredibly popular Karnival range of playing cards reaches new heights of eye-popping design with the KARNIVAL INFERNO. This is a stunning looking deck of cards with skulls, fire, egyptian hieroglyphics and an ominous sense of the macabre - the Karnival Inferno Deck is a striking and unforgettable spectacle.
Vincenzo Di Fatta are proud to introduce a brand new Bicycle deck with rainbow back design. Even the deck case has a rainbow coloured design.
Here is a festive Bicycle deck of cards with Santa back design instead of the normal rider. Even the deck case has a Santa back design - holiday collection from Bicycle.
Amazing looking deck of cards. At the edge of industry, therein lies Steampunk. Ripped from the pages of science fiction, the gears are turning, the steam is pumping, and the playing cards were finally born. It wasn't easy. The paper used on these tuck cases did NOT exist.
The very unusual Zray Deck has been printed by The United States Playing Card Company - the world's largest deck manufacturer and features world renowned Bicycle Deck quality. Retro tattoo and underground comic book style.