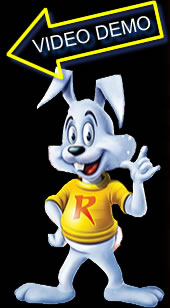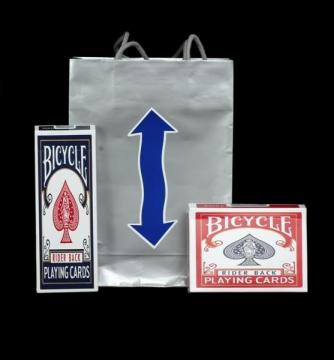 Great visual magic trick with an unusal and surprising ending. Two decks of cards totally change shape by magic. Very easy to do !
More details: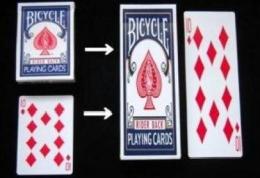 Description
The magican brings out a silver bag, from which he dumps two normal boxed decks of Bicycle playing cards, one red one blue.

A card is selected from the blue deck, for example the ten of diamonds. This card inside the empty cards box. Next a card is chosen from the red deck, say the three of clubs. This card is put into the empty red card box.

The blue box with the chosen card is tossed into the empty silver bag. The performer points out that there is a large blue arrow on the side of the bag, pointing up and down. Some they proceed to shake the bag this way, then takes the box out which has now stretched to twice the normal size in length. But when the chosen card is removed from the box, this too has stretched to twice it's size !!!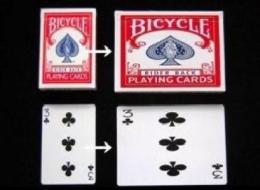 Now for the red box
Now the red box is dropped into the silver bag. When the bag is turned around, the back reveals a large red arrow that points left and right. The bag is now shaken again but the way the arrow shows, left and right. When the box is removed the box has stretched twice the width of a normal box and yes the three of clubs matches also. Fantastic trick with a very unusual ending. Very magical !

Comes with special bag, detailed instructions and specially printed large card boxes and special selected giant stretched cards. Please note you will require a red and blue standard Bicycle deck (not supplied) to perform this trick.




---
You might also like to consider:
The Travelling Deck (RED BACK) by Takel As seen on TV performed by Dynamo. Hold a pack of cards in your hand. Instantly, and visually, in front of the spectator the whole deck disappears leaving you with just one card!
Pop Art by Mark Southworth. Imagine you have an ordinary sketch pad that has a picture of a pack of cards on one of the pages. You flip the pad and the pack of cards jumps out of the sketch pad and into your hands! No, you are not imagining it, this is Pop Art.
Noted by Gary Jones. The notepad turns into a pack of cards right in front of their eyes. You can use 'Noted' in any scenario; Restaurants, Corporate functions, Bars or Parties. The beauty of 'Noted' is its versatility.