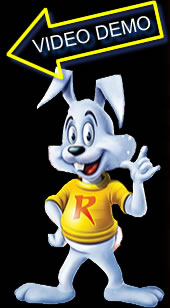 Full remote control animatronic, parrot. Squawkers is very lifelike and similar to a real parrot, because it can repeat words, respond to touch and even dance.
More details:
ONLY ONE SQUAWKERS LEFT !!!!!!!!!!!!!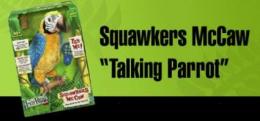 Description
Add some fun to any children's show



SQUAWKERS McCAW the Parrot takes interactivity one step further through highly innovative animatronics, voice recognition and programmable features. The included remote triggers pre-programmed voice commands and provides "shortcut buttons" to activate varied play modes which enable SQUAWKERS McCAW to respond by simply repeating words spoken to him, answering with pre-programmed commands, "teaching" the parrot to respond with programming voice commands or prompts, and responding with "humorous" and "playful" phrases to his
pre-programmed phrases.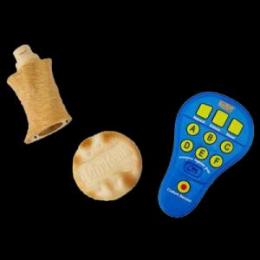 Fully interactive
Parrot accessories



Squawkers comes with its own handy remote that will let you switch between speech, dance and singing modes. It will tell silly jokes and play gags including whistling, laughing and making noises. Just like a real parrot, Squawkers Mccaw gets hungry and you can feed it with its own supplied cracker (It's the parrot's favourite.) The bird has loads of sensors on its body which will make it coo, sway, kiss, flutter its wings and even play peek-a-boo.

Squawkers Mccaw comes with its own cracker, perch and remote.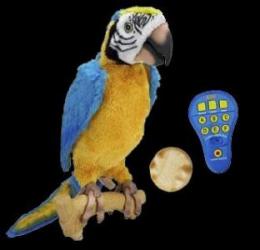 Endless possilities
Train your parrot right out of the box



Squawkers has endless possibilites for entertainers and can be used very easily in any children's show. Train your parrot right out of the box. This feathered friend responds to you with more than 45 words, phrases and silly sound effects. You can even make the Squawkers parrot mimic what you say! Squawkers Mccaw gets down and groovy, dancing to its favourite songs.

The animatronic talking parrot acts up, speaks up and gets down to the music! Don't be fooled into thinking this is just a toy.

Squawkers Mccaw is just as popular with adults. It can copy anything you say though so be careful! Now you can be a real pirate, with your own life size parrot.

And true to real Macaws, SQUAWKERS McCAW loves to dance! If music isn't played, SQUAWKERS McCAW will play and dance to his own signature song.




---
You might also like to consider:
Another Razamatazz Magic exclusive. AVAILABLE ON PRE-ORDER NOW ! ... The name is Wand, Walter Wand, licenced to thrill !!! Here is the original fantastic character wand from Razamatazz Magic. You have never seen a magic wand like this before. Walter is a fully animated magic wand. Made by a master craftsman and is built to last, take a look and be amazed at this great prop !