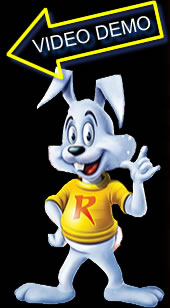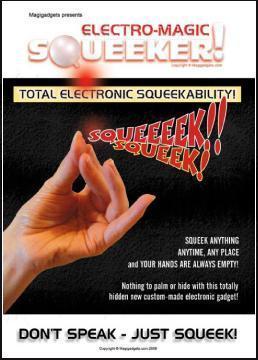 Introducing Electro-Magic Squeeker, a purpose built electronic unit which will enable you to SQUEEK anytime, any place and anywhere. Totally hidden, takes less than a minute to set-up, you're always ready to Squeek all day. Now you can perform the classic Squeeker gag with your hands totally empty ! Imagine being able to make anything you touch SQUEEK!!!
More details: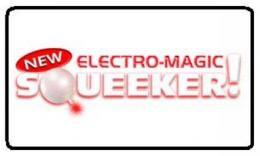 Description

You're just gonna love the

NEW ELECTRO-MAGIC SQUEEKER

- it's going to open up a whole new world of magical
possibilities for you. Whether you're a beginner or an experienced professional - you'll have more fun with Electro-Magic Squeeker than you could ever imagine!

Reputation maker, worth 10 times it's price. A small investment for a quality custom-made piece of electronic wizardry. The best comedy prop / magic gadget you'll ever own!


Finally,,, Here's the NEW ELECTRO-MAGIC SQUEEKER at last.
This terrific little electronic gadget will allow you to literally Squeek anything, any time, any place. We've taken the old classic Toy Squeeker gag and given it a 21st century Electronic make-over. With this little piece of electro-wizardry discreetly tucked away you'll be able to Squeek impromptu and without any fiddling or set-up.
And, here's the best bit.... YOUR HANDS ARE ALWAYS TOTALLY EMPTY... guaranteed! Nothing to palm, hide or get rid of.

The Electro-Magic Squeeker is exclusively & purpose-made for this effect. Does not employ any of the old traditional methods (a hidden pillow/toy Squeeker etc). Digitally recorded chip replicates the Toy Squeeker sound LOUD, CLEAR and PERFECTLY. This unit is Electronically controlled and under your complete control at all times. Squeeks instantly & only when you want it to.

PLEASE NOTE: The Toy Plastic Squeeker (supplied) is for presentation purposes only - it does not 'operate' the Squeeker effect
Totally reliable and a joy to use!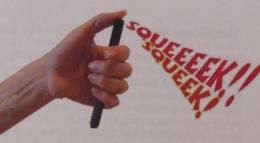 More info
Easy to use


We've had great fun test-driving the Electro-Magic Squeeker and we're sure every magician is going to find a million (and one!) opportunities to use this.
It's not only great as a stand-alone magic effect - makes Squeeks appear from anything and everything - but also to integrate into all of your favourite effects and routines.
With absolutely no apparent movement or detection on your part, you can cause anything to Squeek at anytime - even whilst you perform another effect.
Very versatile, sure-fire, easy to use and utterly reliable.
Our new activation system is reliable and undetectable. No uncomfortable and annoying toe-switch and definitely no miles of wires down your pants!

The set-up is quick and easy to install (takes about 30 seconds) and once you're set-up, it can stay there all day, ready to activate at a moments notice (no fiddling or preparation) yet comfortable and totally unobtrusive. Use with Jacket or just shirt - flexible, adaptable and fully adjustable to suit your size , needs and fitting requirements.
Activation is simple, effortless and undetectable. Will not interfere with any of your movements or performances - yet will activate in a heartbeat.
Our system leaves both your hands free to enable you to casually Squeek at anytime during your performance!


SQUEEK anything and everything within reach! Audience reactions are unbelievable
as everything you touch just keeps SQUEEKING! And YES, your hands are always empty.

Worried about how to approach your table or audience? Well, we'got the perfect answer.
EM Squeeker can get you off to a flying start, settling your nerves and is guaranteed to make the toughest crowd smile.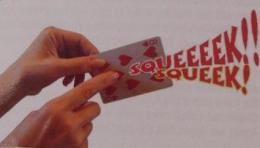 Even more info
Great for stage performers too - So much potential !





•

Will not Squeek accidentally. Under your complete control at all times. Squeeks only when you want it to.



•

Sets up in seconds. Can remain set up all day and is comfortable, adaptable, discreet, reliable and totally unobtrusive - but ready to Squeek anytime and instantly! You'll even keep yourself amused!.



•

Your hands are always empty - genuinely.



•

You can Squeek totally surrounded and in any conditions! There's nothing to hide.



•

Always ready and you can Squeek 'totally impromptu' without any pre--setting, fiddling or preparation.



•

You'll be Squeeking within just a few minutes of handling practice - very easy to use, and no skill required.



•

Used by skilled professionals through to complete beginners, limited only by your imagination, and soooooo EASY TO USE!



•

Comes complete with: Custom-made Electro-Magic Squeeker module, Fully detailed and comprehensive 12 page colour instruction book, tough protective traveling/carry case, Cushionair Switch * Adjustagrip Switch Housing (fully adjustable to suit your personal requirements) *
2 custom-made soft-nylon classic Toy Squeekers * Button design business cards. All fully equipped and ready to go!
Requires 3 AAA batteries (not included). With our revolutionary design and set-up, the SQUEEK really does seem to come (and it does!) from your hands
or the object you are squeezing or pressing! Perfect illusion - audibly & visually !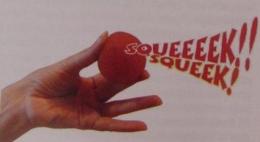 Here's the Science bit....
•

Custom-made Electronic module - this is purpose built for the job!



•

Micro Electronic circuit technology.



•

Electronic circuitry/chip designed and programmed to play a 'Double Squeek' (the best type!) on each activation in a split second – sure-fire and reliable.



•

Adjustable volume control.



•

Slim & discreet - The actual Electro-Magic Squeeker unit is easily hidden away in your jacket - but due to the innovative design and technology utilised, the sound of the EM Squeeker always seems to come from your hands or any object you wish! Optional set-ups possible for use without jacket (e.g. Shirt, Costume, etc) Very flexible and adaptable for all manner of applications.



•

Professionally recorded and digitised 'Squeek' mimics perfectly the sound of our classic soft- nylon Toy Sqeekers (supplied with the unit).



•

We supply you with 2 soft-nylon classic Toy Squeekers which are custom-made to replicate the sound perfectly (available in packs of 5 from us).



•

Repeats FAST & LOUD - so you can cause mayhem at your discretion!



•

Our revolutionary enhancement really makes the SQUEEK sound seem to come from your HAND or any OBJECT – greatly enhancing the effect.



•

UNIQUE ACTIVATION SYSTEM



•

You'll love the unique and innovative 'Cushionair' switch design - making EM Squeeker simple and a pleasure to use. Sure-fire, natural, trouble-free, undetectable and reliable. Highly praised by top magicians & reviewers. Very user friendly, set-up is a breeze and no wires down your pants!!!



•

Will not Squeek accidentally. Under your complete control at all times. Squeeks only when you want it to.



•

Made for professionals, by a professional.
Picture the scene....

You take your classic Toy Squeeker and Squeek it a couple of times. Now pass it to someone and ask them to try it... they FAIL. You now take it back and quite casually Squeek it again, and again.... (you see where we're going with this?!). After several attempts you now suddenly realise it's not actually the Squeeker, but it's your fingers that SQUEEK! So now you realise that everything you touch... SQUEEKS! Imagine the fun from here onwards

Get them to Squeek a toy Squeeker into the palm of your hand and you 'capture' the Squeek. Now, put your clenched fist near their ear and let them hear the Squeek magically released from your hand. The illusion is perfect. This has great impact, is a great conversation piece and an instant crowd pleaser.



Here's a great idea with lots of potential....
We strongly recommend you purchase a spare set of Toy squeakers. Now that you have a few spares, take the reed out (the bit that makes the Squeek!) - so there's NO Squeek. Now have great fun and hilarity as you make the Toy Squeeker Squeek repeatedly under YOUR complete control - yet your audience find it impossible!
So don't bother speaking - just get SQUEEKING! Integrate Squeeks into your favourite effects & routines

And this is just the tip of the iceberg.....
Imagine how much better your Sponge Ball routine - or ANY effect - could be with the integration of EM Squeeker Squeekability! EM Squeeker is limited only by your imagination..... Integrate Squeeks into any of your effects or routines - and just imagine the possibilities, fun, chaos and mayhem !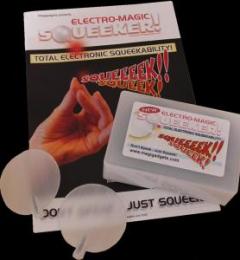 We start you off with several fun gags and ideas in the 12 page colour booklet - including a great '3 Squeeker Monte' idea which has huge potential for close-up workers (extra Toy Squeekers available from us), 'Telekinetic Squeeker', gags and pranks for everyday use, turn any of your favourite card effects into a 'Pip Squeek' (!) etc. etc. You'll soon be Squeeking anything and anyone within reach!
We will not be liable for any arrests or legal action - so, be careful what you Squeek and tweek!!!

We strongly recommend you take a look at the 'Art of Public Squeeking' book for even more ideas, gags and pranks... as well as magical uses! It a great read - highly recommended.




---
You might also like to consider:
Turn anything into a radio. With Instant Radio Ver2 you'll be able to create miracles in your bare hands. Touch, squeeze or press anything and it becomes a Radio.... yes, real FM Radio sounds from anything. Your hands are always totally empty, yet the Radio sounds really do seem to come from the object you're holding. It's so easy to do, and you've got nothing to palm, hide or get rid of.
The classic gag where the performer makes various items squeek by magic. A childs nose, a sponge ball or anything you wish. Comes in packs of 2. Add lots of fun and comedy to any children's show.