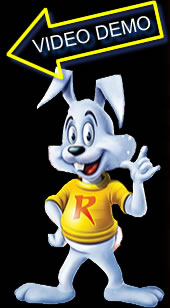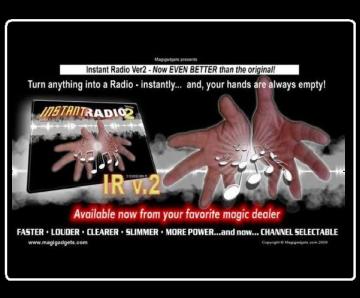 Turn anything into a radio. With Instant Radio Ver2 you'll be able to create miracles in your bare hands. Touch, squeeze or press anything and it becomes a Radio.... yes, real FM Radio sounds from anything. Your hands are always totally empty, yet the Radio sounds really do seem to come from the object you're holding. It's so easy to do, and you've got nothing to palm, hide or get rid of.
More details:
Description
Welcome to Instant Radio version 2



A lot of technology and wizardry packed into a tiny little package!

With Instant Radio Ver2 you'll be able to create miracles in your bare hands. Touch, squeeze or press anything and it becomes a Radio.... yes, real FM Radio sounds from anything.
Your hands are always totally empty, yet the Radio sounds really do seem to come from the object you're holding. It's so easy to do, and you've got nothing to palm, hide or get rid of.



CLEARER & LOUDER by 200%


Ask someone to draw a picture of a Radio on the back of your business card, napkin or any piece of paper and ask them not to forget to draw the 'on/off button'. Then, with both your hands empty, take the drawing from them, press the button on the 'Radio' they have just drawn, and… the Radio comes to life! Loud and clear - and now with Version2 it's CLEARER and LOUDER by 200% ! Oh, and by the way, here's the best bit, the sound really does seem to come directly from the drawing!



More info
PERFECT ILLUSION


Limited only by your imagination, INSTANT RADIO V2 is the unique electronic gizmo which will enable you to transform anything into a Radio. And... the great thing is, the sound really does seem to come from your hands or the object you are holding! The illusion is perfect!




EASY TO USE


Your hands are always totally empty. Nothing to palm, hide or get rid of and you are totally clean. Always ready to go and you can perform this at a moments notice and totally impromptu! You'll use it at every opportunity and get great reactions.
A unique easy to perform effect - whether your are a novice or seasoned professional in magic - INSTANT RADIO is so easy, reliable and practical to perform that you can concentrate 100% on your presentation without worryng about complex handling.




FASTER - ACTIVATES INSTANTLY


You'll be using this within 15 minutes and once set-up INSTANT RADIO will be ready at a moments notice. The easy to use, relaible and universal intuitive switching system is a pleasure use - a dream to activate - and has been widely praised by magicians worldwide..... and it's not an uncomfortable irritating 'Toe Switch'!

Activates instantly without any apparent movement and the revolutionary scanning feature ensures you get real FM Radio sounds in a heartbeat!



MANUAL SCAN BUTTON - New added feature...


No tuning problems to let you down…. scans & tunes automatically & instantly to ensure a confident and trouble-free.performance. New added built-in manual Scan button on the Radio allows you to search manually and set the Radio.



5 STAR REVIEWS


INSTANT RADIO was introduced about 9 months ago to great acclaim from magicians around the globe. Receiving 5 star reviews in the world's top 3 magic magazines and creating a buzz in all the magic forums, Instant Radio won praise for it's ingenuity, technology, ease-of-use, practicality and innovative methodology. The response was staggering and Instant Radio very quickly SOLD OUT! Well, now all that has changed ... it's back and now EVEN BETTER!

Can be used for CLOSE-UP - WALK AROUND - RESTAURANT - SHOWS - TRADE SHOWS - CLOWNS - TABLE HOPPING - IMPROMPTU and even ON STAGE!


This is one effect you will carry with you regularly and we guarantee you'll have so much fun with it. Use it with ANYTHING! You'll soon be making everything come to life!
Makes a great start to your close-up routine – a perfect ice-breaker and attention grabber for walk round, close-up workers, street magic, restaurant workers.... infact all types of magicians....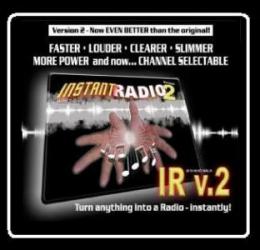 Easy & Quick to use
Easy to use - you'll be using this just 15-20 minutes after some minimal handling - and no skill required.



•

UNIQUE ACTIVATION SYSTEM



•

You'll love the unique and innovative 'Cushionair' switch design - making 'Instant Radio' simple and a pleasure to use. Sure-fire, natural, trouble-free, undetectable and reliable. More user friendly, set-up is a breeze and no more wires down your pants!!!


•

Will not go off accidentally. Under your complete control at all times. Plays only when you want it to.


•

Sets up in seconds. Can remain set up all day and is discreet, reliable and totally unobtrusive - but ready to perform anytime and instantly! You'll even fool yourself!.


•

Your hands are always empty - genuinely.


•

You can perform this totally surrounded and in any conditions. There's nothing to hide.


•

Always ready and can be performed 'totally impromptu' without any pre--setting, fiddling or preparation.


•

You'll be using this within 15-20 minutes of handling practice.


•

Used by skilled professionals through to complete beginners, limited only by your imagination, and soooooo EASY TO USE!


•

Comes complete with fully detailed and comprehensive 12 page colour instruction book, tough protective travelling/carry case, Cushionair Switch * Adjustagrip Switch Housing * Large resin Radio Dial * 2 Radio design business cards. All fully equipped and ready to go!



Instant Radio Ver 2 is now ...
•

Fully custom-made Electronic module - this is not an adapted Radio - purpose built for the job!



•

It is a real FM Radio - works WORLDWIDE - and will play all your local area stations.



•

FASTER: Scans even faster to find a channel INSTANTLY.



•

LOUDER: Over 200% louder than the original model (using new amplifying technology) to give you impact-making booming volume!



•

CLEARER: Improved high quality Radio chip to give you clearer (& louder) sound and reception.



•

SLIMMER: We've changed the design of the unit - making it ultra slim and easy to store.



•

MORE POWER: Makes the Radio positively boom with sound!



•

And finally.... *CHANNEL SELECTABLE.
We've added a manual Scan button to allow you to Scan & select from a range of (your regional) FM Channels with our built-in Scan and Reset facility. Channel scanning and Re-set can now be manually set with the built-in buttons on the Radio - for your convenience. So, local reception and signal strength permitting, you'll be able to Scan and set up your Instant Radio to your own choice.



•

All this is still coupled with our AUTO/SELF-SCAN technology which ensures that INSTANT RADIO is sure to play every time, without letting you down.*



•

Self Scan over-ride function ensures that if your selected channel fails (due to weak reception or signal strength) the Radio will automatically and instantly locate an alternative channel, ensuring the Radio plays.* * Subject to local reception and signal strength.



•

Includes free large resin authentic Radio Dial - a great extra prop for all your INSTANT RADIO performances which will really get them talking!



•

Runs on 3 AAA batteries - to give you more power & great volume! (Batteries not included)



•

Made for professionals, by a professional.




Review

We'd like to attribute some credit to a man we saw demonstrate a version of this effect many years ago and such was the impact, that we've never forgotten this wonderful effect and more importantly the incredible reaction from audiences. That man was Al Cohen – one of the nicest gentlemen and finest demonstrators in magic

It is good to see the above credit, not only on the supplied paperwork, but also in the website advertisement for Shahid Malik's new effect, Instant Radio. The trick is definitely different. Anything held in the magician's hands can be turned into a Radio: a deck of cards, a coin, a business card, a pen, a wallet – anything. But when handled by a spectator, the object is completely free of gimmickry.

Al Cohen's original was called A.M Ink and was first marketed about thirty years ago. The problem with the Al Cohen model, which was a small transistor radio, was that it did not work well inside some buildings because the AM signal was difficult to pick up. Also, the activation switch was concealed in your shoe and was operated by your toe. So the set-up required a wire running down your leg and into your shoe.

Malik has devised a new technique that is quick and can be activated almost at will. This is a custom-made unit and is not merely an adapted Radio. The transmitter is very small and the whole rig takes about one minute to set up when you have a jacket on. You can wear the apparatus all day without it getting in your way, and if you keep the unit in standby mode, you are ready to go at any moment.

There is not danger of your accidentally triggering the Radio. Such mishaps are prevented by what Malik calls a 'Cushionair Switch'. This switch is the key to the effect, and triggering it when necessary could not be simpler. Like the Cohen original, there is no visible movement when you trigger it. Another important element is the built-in automatic scanner in the Radio unit. As soon as you switch the unit on it instantly locates the strongest FM Radio channel. The volume can be adjusted and is surprisingly loud at its highest setting, and the sound really does seem like it is coming from your hands. Any object that you pick up and hold can appear to emit a Radio channel, and with the Cushionair on-off switch, you are in complete control of the sound. You receive 2 printed cards with a drawing of a Radio on them to get you started.

While this is designed to be performed wearing a jacket, it is not essential – as Rich Hennessey demonstrates in a short online video. Type 'IR Casual Attire' in the YouTube search box to view it yourself.

Everything you need to perform this is supplied, and the apparatus is fully adjustable to suit all body shapes and sizes. A nicely produced 12 page colour booklet explains everything in detail. The only items not include are 2 AAA batteries.


Reviewed by Peter Duffie – Magic Magazine

---
You might also like to consider:
Introducing Electro-Magic Squeeker, a purpose built electronic unit which will enable you to SQUEEK anytime, any place and anywhere. Totally hidden, takes less than a minute to set-up, you're always ready to Squeek all day. Now you can perform the classic Squeeker gag with your hands totally empty ! Imagine being able to make anything you touch SQUEEK!!!