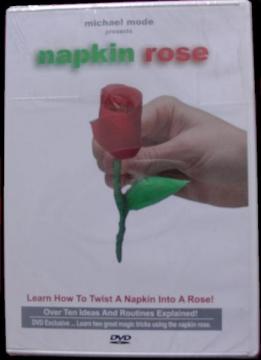 Michael Mode's Napkin Rose DVD shows how to make attractive paper roses out of cocktail napkins. Mode offers excellent instruction and much insight on his DVD, and comes with specially-dyed napkins for the job. Ideal for Entertainers, waiters/ waitresses, cruise ships, hotels, weddings, Bartenders and arts & crafts !
More details:

More info
A great giveaway


Napkin roses offer an outstanding giveaway when strolling or table-hopping, and this DVD provides a thorough treatment of the topic.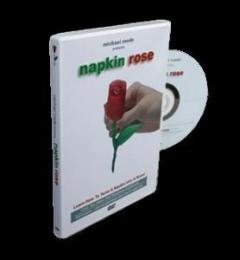 More info
As you would expect, the bulk of the DVD has Michael Mode teaching you how to twist a napkin into a surprisingly realistic-looking rose. While the process takes some practice to do well, it's not that difficult. Mode's instructions are clear and easy to follow, and throughout, he offers friendly, helpful explanation.

Beyond the basic napkin rose, Mode teaches how to make a delicate one-ply napkin rose, and a cute, miniature tea rose. He's experimented a lot with his roses in the real world and offers advice on how to print your name and logo on the napkin, and, if you're inclined, to add scent to the rose itself.



Magic effects with the Napkin rose
The DVD explains three effects


Mode shows how to make a rose mysteriously glow by purchasing and using an extra prop. "Rose and a Kiss" allows a rose to magically produce a (chocolate) Kiss, and there's the fun "Torn and Rose-Tored," a torn and restored mystery that involves napkin roses.

Mode takes time to offer insight into the production and giving away of napkin roses. He has encountered lots of different situations and offers approaches to handle them. The production values on this DVD are particularly high, which makes it a pleasure to watch.

The DVD comes with 12 of Mode's specially-dyed green and red napkins that make particularly attractive roses. You can create napkins from standard cocktail napkins, but the addition of green on the stem and red on the rose clearly add impact to the final flower.Michael Mode's Napkin Rose DVD offers an excellent and complete treatment of the napkin rose. If your strolling or table-hopping routine can use a powerful and attention-getting giveaway, definitely check this one out.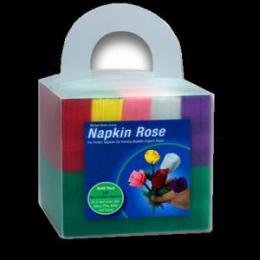 Refill packs available
Napkin refills


A "Special" Rose napkin refill Cube is available from our website with the following napkin rose colours:
30 Red
30 Yellow
30 Pink
30 White
30 Purple
150 rose napkins all in one bumper refill cube.




---
You might also like to consider:
150 Napkin refills for twisting realistic origami style roses in bright colours. Colours are red, yellow, pink, white and purple.