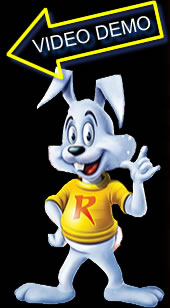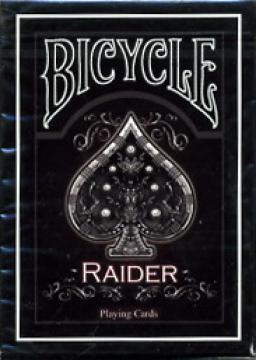 The Bicycle Raider deck is the accumulation of years of work by a multitude of magicians, graphic artists, and printing experts. Even before the deck is opened, the box alone alludes that the Raider deck is something special.


More details: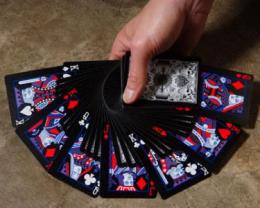 Description
Superior manipulation


When the cellophane is taken off and the cards removed from the pack, the black backing, highest casino grade stock, and Bicycle's own air-cushion finish allow you to immediately fan the cards as if they were an oiled machine. The red numbers, letters, hearts, and diamonds against the black background make every letter, number, and pip pop. The white clubs and spades create a contrast that can grab attention from across the room. Each deck includes jokers that have a full haunting portrait that can create a sly reveal.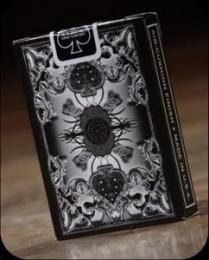 More info
The Raider deck is for magicians


From the skulls hidden into Magic Network's original back design, to the card included just for magicians, there is always something new to notice about the Raider deck. And simply using the Raider deck is a way to get you noticed. This is the premium deck of playing cards for those who don't play around with their reputation.
•Original back design.
•Most durable stock available.
•Black border and background.
•Black pressed twice to get darkest black possible.
•White and red pips and midnight royals (Classic royals on black background rather than just inverted.)
•Card revelation built into the jokers.
•Included double back card.




---
You might also like to consider:
Carrying a full set of dominos is nowhere near as easy as carrying a deck of cards. That's why we thought: why not combine the two? This deck is a complete set of Dominos. That's right-not a single Ace of Spades or face card to be found. Carry it on you for an impromptu game at the airport, while waiting for a table, or break it out for your family game night.
These series Bicycle playing cards feature specialty designs and unique custom Jokers. Available for a limited time - Collect all decks within the series.
A stunning (totally new) design - every card has been re-imagined and beautifully rendered by renowned French artist Sam Hayles. With a theme somewhere between grungy post-modern and elegant macabre, this is THE deck to own.
The latest addition to the best-selling Karnival range of playing cards is the Bicycle Karnival Earthtone9! The incredible artwork for this deck was handled by renowned designer Sam Hayles. The Karnival Earthtone9 Deck was created to celebrate the career of UK post-metal act earthtone9, and the deck's incredible artwork was directly inspired by the band's new album design.
The incredibly popular Karnival range of playing cards reaches new heights of eye-popping design with the KARNIVAL INFERNO. This is a stunning looking deck of cards with skulls, fire, egyptian hieroglyphics and an ominous sense of the macabre - the Karnival Inferno Deck is a striking and unforgettable spectacle.
This deck of playing cards is like no other design and ideal for use with any card routines. Totally new back design, Ace Of Spades, Jokers and Tuckcase, they look stunning. A cinematic and stylish look!!!
A deck of Bicycle playing cards with Tragic Faces design on Royalty Face Cards. Cards glow under blacklight.
Great deck with a new standard in playing card design. The first deck from the 1914 collective. Designed by alt-magician Dee Christopher and produced by Titanas Magic Productions.
The very unusual Zray Deck has been printed by The United States Playing Card Company - the world's largest deck manufacturer and features world renowned Bicycle Deck quality. Retro tattoo and underground comic book style.
The Bicycle White Raider deck is the next installment of the popular Raider deck design. Made with the highest grade casino stock, these look amazing !!!