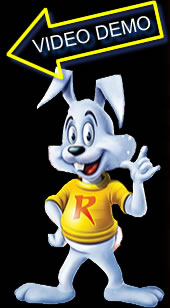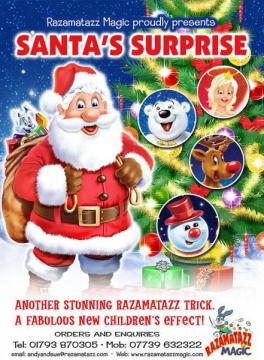 Santa's Surprise is a great trick for the festive season for children's entertainers. Christmas version of the Rabbit Rampage set but with Christmas characters where Santa vanishes and appears in a funny comical routine with a different ending to the original.


More details:
Hints and Tips
Hints and Tips for This Trick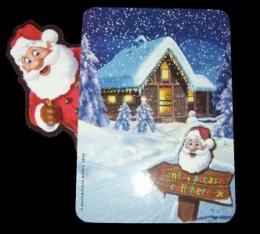 Description
Again this is an updated and modified version of the classic Farmyard Frolics (Edwin Hooper) style children's effect again with a twist.

Great festive fun routine where Santa vanishes and appears in a funny comical routine with a different ending to the original style of effect.

After Santa vanishes, the magician can't see him peeping out the side and the top of the house. There is much audience participation as the children waste no time in shouting out where he is. Trick concludes with a magical ending.

This is a great trick with a Christmas magical theme for today's children's entertainers. Modern, colourful and keeps the children laughing and shouting in a controlled way that is a fun to see.
We have taken a tried and tested formula. Improved it and now we are proud to present this greatly enhanced set.
You will be amazed at how stunning this looks. Never before has a children's Christmas prop looked so good.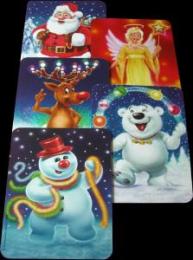 Apparatus supplied
Like the Rabbit Rampage set we have worked closely with one of the UK's top illustrators to bring you a fun, eye catching, magic trick but this time with a festive theme which is ideal for Christmas shows.
In the pack you will receive an attractive giant magic snow covered house and set of Christmas character cards with the most beautifully illustrated festive characters you will ever see in any children's effect, again all superbly made.

The whole set comes in it's own special hard wearing PVC carry case for easy transportation. Which will help protect your set for many years. This is an absolute must for any professional or amateur children's entertainer and an ideal addition to any children's and family Christmas shows.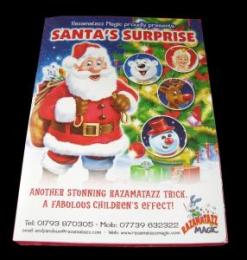 Summary of effect
A picture of a snow covered house is shown.
When the children are shown inside all they can see is a bare room with a sad looking Christmas tree with no decorations, baubles, lights and worst of all no presents.

The children are encouraged to shout out what items are missing from the tree.

The magician now looks for Santa but cannot be found so some of Santa's friends are introduced one by one and each character is holding something nice to decorate the tree.

Santa appears and the children are asked it they would like him to do some Christmas magic. Of course they say yes so Santa is made to vanish followed by lots of fun where the children see him peeping out of the side of the house, every time the magician looks he pops back inside so does not see him.

Eventually the children are asked to say the special Christmas magic words and Santa now appears with all his friends in the same room but now the Christmas tree has been transformed and is beautifully decorated and presents can be seen at the bottom – Merry Christmas Everyone !!!





Replacement PVC storage Case available in the magic accesories section.
Comments from buyers

I received my order Thursday Morning from the order on Wednesday afternoon !
The 2 items are perfect in their production and a lot of time and thought has been put into them. I especially like the fact that you have also considered the Xmas season. I very much appreciate your efforts to date and will be looking forward to seeing your future products


Mike Bradshaw - Tricky Micky (England)



I just got my Santa Surprise today and it really is a BEAUTIFUL set ! A perfect compliment to Rabbit Rampage - and just right for the coming Christmas Season!


Magic Bern (Hong Kong)



I recieved Santas surprise a few days ago, and once again the graphics and attention to detail make it visually stunning. I can not wait to use it in my childrens christmas show


Dr POP (Scotland)



Brilliant ! Absolutely brilliant ! The package arrived today and Santa's Surprise and Multiplying Santa's are two really good tricks, superb quality and great fun. I very much hope we can keep in touch and wish you every success in your venture. With props of this quality, it should be a relatively good ride !


Steve Dimmer (England)



Goods arrived this morning many thanks for your efforts. My first impressions are WOW ! They look really very good. Again many thanks and look forward to more quality effects from yourselves


Bob Pamplin (England)



wow! wow! wow! sums up the fabulous new range of tricks available from Razamatazz magic. You will not be dissapointed with the quality and workability of their products. As professional children's entertainers we are extremely demanding in our requirements for new tricks and props. They have to be visually eye catching, made to a high quality, and most important be usable.Razamatazz Magic have succeeded in bringing all these qualities to their products and together with those little touches that only experienced entertainers can add, have produced Superb, Value for Money tricks that any entertainer will be proud to own! At long last, children's magic for the 21st century! that will not be left in that "bottom drawer" gathering dust. These tricks will go into your show as soon as you open the box!

We can't wait for Christmas now so we can use "Santa's Surprise" and "Multiplying Santa's". We will definately be "watching this space" for future products


Ian & Tracy - The Magic House (England)



I have been playing around with Santa Surprise and it is really great. It will go down so well in the festive season. I don't normally do tricks like this, by that, I mean pack flat card tricks. The reason I went for it was because its bang up to date. Roll on Christmas!!!!


Louis - Wizzo the Wizzard (England)



I received my Santa's Surprise and absolutely love it. I look forward to using it in my Christmas Library shows


Juanette Benigno



Hi Andy and Sue, my name is Peter and ordered the Santa's Surprise from you just last Friday late on in the afternoon. I was in a great need of it for a show on Saturday at 10am. I must say a big thank you , as I got it at 7-30am Saturday morning ! You saved the day for me, and when i used the Santa`s surprise, well what can I say the oooh`s and aaahhhs from the kids as I did the trick using the script was fantastic. It is the best Christmas trick I have used in 22 years of doing kids shows ! Thank you both !!! With support like this, we as Entertainers will only get better. The prop is outstanding in every way, so keep them coming. I look forward to my next order , thank you so much


Jimbo - the other one from St Helens (England)



Hi guys! Just did Santa Surprise for the first time and, as expected, it was a big hit !!! Have you thought about making nice stands that would work with this and the rabbit trick? Hope you're well


Mike Bent (USA)



Hi Andy & Sue
Can I just say what brilliant products you are producing, the latest two I got from you have proved a smash with the kids and some magicians(gloats with glee). I have always looked for something seasonal and different now I have them and now working on a great routine (I hope) that links into other bits of magic emulating from the Santa Suprise and multiplying santa. But the best bit is the quick and positive way you dispatch the items.

I have already given your web address to magician friends in Australia and Maylasia thanks again for brilliant products and fantastic service. I can highly recommend Razamatazz Magic and its products. Here is to the next time and I hope it will be soon.
Many Thanks


Steeve B - Funky Monkey Magic (England)

---
You might also like to consider:
Another Razamatazz Magic exclusive. Using a Christmas theme the magician performs a 'find the lady (or Santa)' type routine. And Santa vanishes proving that he really is magic !!!
Another Razamatazz Magic exclusive. A spectator is totally baffled when a chosen card matches another identical card in the packet even though every other card is different ??? Very easy self working trick with a Christmas theme where a spectator finds the same chosen card as the magician.
Multiplying Santa can be used by it's self or a perfect addition to Santa Surprise set. In the routine a magician makes giant multiple Santa's from an empty bag or Santa appears outside the area you are performing in !
Another Razamatazz Magic exclusive. Where's Santa is a simple, easy to do card trick where a spectator correctly finds Santa. This is a Santa version of the where's the Rabbit trick also available.
Rabbit Rampage is an updated and modified version of the classic Farmyard Frolics (Edwin Hooper) style children's effect, but with a big twist at the end. Great fun where Rodney the magic rabbit vanishes and appears in a funny comical routine with a different ending to the original.